Compact dryers at Amboss + Langbein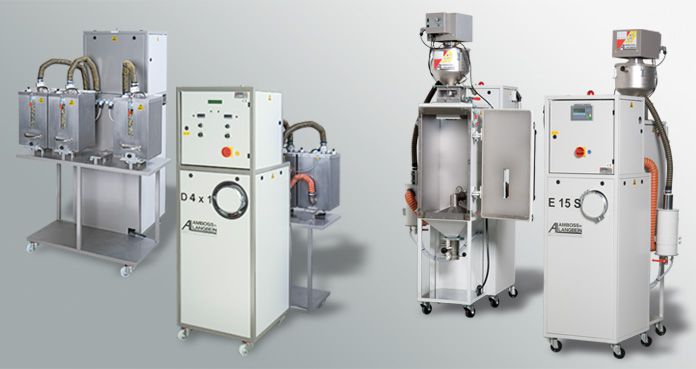 The profit earner – Mobile dry-airdryers in a modular system
The compact dryers at Amboss+Langbein can be used anywhere. They can be configured for mobile work, to operate independently, and can be integrated with any existing Amboss+Langbein system.
The mobile and independent design of Amboss+Langbein compact dryers positively impacts production parameters with respect to cost-benefit ratio. Quality consistency and efficient production are ensured. "Over-drying" of material is prevented by accurate process-controlled adjustment of the drying parameters. The pre-drying time is as short as three to four hours; the drying temperature can be adjusted precisely from 30 °C to 160 °C using a three-point controller. 
Compact dryers, series E and D
The Amboss+Langbein compact dryers are available as E series with single vessels or D series with double vessels.
Properties:
Compact design, can also be configured as a mobile unit

All material-contact parts in V2A stainless steel

Continuous, gentle drying

Dewpoint c. - 60 °C

Option for dual heating circuits (D series)

Insulated, stainless steel cleaning door

Monitoring and documentation of drying parameters

Sample drying online during normal production

Patented cleaning system

Multiple machines can be supplied simultaneously

ECO variant with reduced energy consumption
Specifications:
Max. Dimensions (W×D×H): 650 × 1300 × 1750 mm 
Vessel sizes E series: 25 l - 200 l
Vessel sizes D series (x2 each): 25 l - 100 l
Throughput (PA max) E -series: 4 kg/h - 70 kg/h
Throughput (PA max) D -series: 1.5 kg/h - 15 kg/h
Drying temperature: 30 - 160 °C.
Drying air rate: 80 m³/h - 180 m³/h
 

Zusatzeinrichtungen:
Double, triple or quadruple outlets to supply multiple production machines

Automatic vessel fill with integrated controls and power unit for automatic precipitator

Material flow rate dependant on drying