Individual material distribution system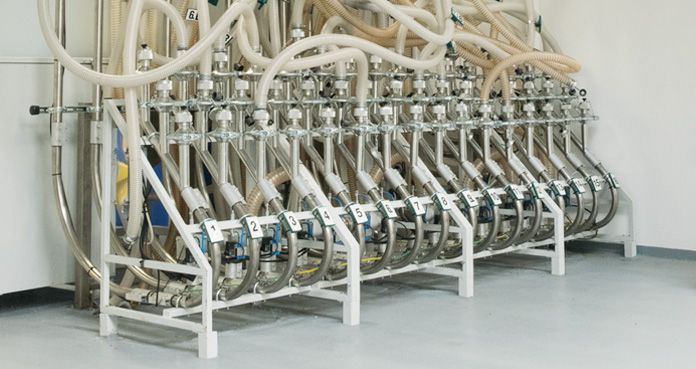 The material distribution systems at Amboss+Langbein are designed and implemented according to the customer's individual specifications. Manual material distribution is accomplished by using quick release couplings.
Both the number of different materials and the tapping points per material strand are variable and can be at any time adjusted. Reliable material handling is ensured by integrated check valves – working passively – independent of the fill level of the hopper loader.
Integrated pipe emptying valves and quick-release couplings with double-sided closures on the pipe and hose side ensure sure and clean handling during production. In addition, the material distributor is equipped with glass bends and glass pipe segments. As a result, highly abrasive or poor flowing materials can be processed easily and without loss.
Features:
Accessory for the complete central material distribution system. This efficient material distributor by Amboss+Langbein is made of V2A stainless steel and is suitable for all abrasive materials.

The entire unit can be expanded or contracted according to:
• Number of material taps


• Number of material strands

Space-saving design to accommodate any spatial/commercial situation.

All material contact surfaces can be lined with glass.

Segmented design allows for smooth replacement of worn parts.

Integrated material suction valve for clean material coupling, cleanroom compatible

The quick release coulping system (SRK 40) at Amboss+Langbein is detachable withoutneed for tools.

The hose pipe connection is seamless, vacuum-tight, individually closable, heat-resistant and easy to install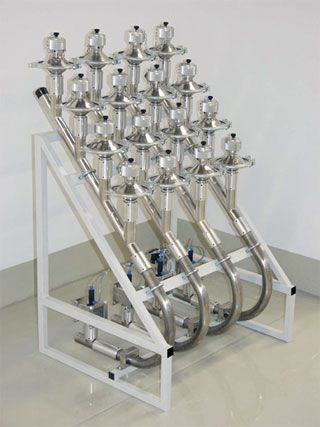 Material distribution (station) in V2A stainless steel
with four material strands and four taps each
Technical specifications:
Dimensions (W×D×H)*:
2 material strands: 400 × 640 × 1,200 mm
3 material strands: 580 × 640 × 1,200 mm
4 material strands: 750 × 640 × 1,200 mm



* Depth and height based on 4 taps